Welcome to the official website of Jazz Guitarist   Eric Johnson

Welcome to the official website of Eric Johnson.  Guitar and Jazz are his passions.

Eric Johnson is a soul survivor.  Eric's 40 year career has afforded him the opportunity to travel the world performing with some of the world's greatest jazz artists.  Eric Johnson's career began in Pittsburgh, in the late 60's Rhythm and Blues/Jazz Funk circuit.  After graduating high school, a bold, eager Eric Johnson took his guitar and went on the road with legendary organist Brother Jack McDuff. Johnson soon became a popular sideman working with Leon Spencer Jr., Lou Donaldson, Jimmy McGriff, Stanley Turrentine, Hank Crawford, Ramsey Lewis and many others.

After relocating to New York in 1978, Eric Johnson and his guitar began touring with Jimmy Owens and Willis "Gatortail" Jackson.  The association with Owens was especially gratifying because of the exotic locations they would perform. The group also conducted many workshops and lectures at various colleges and public schools. Eric also led a trio that worked the New York and New Jersey areas.

Discography

The year 1993 represented a breakthrough in Eric's career, with the release of his first CD "Bumpin In LA".  Due to the success of the CD Eric relocated to the Los Angeles area.  While in L.A., Eric Johnson, with his guitar, led a popular trio in addition to performing with LA greats Lorez Alexandria and Buddy Collette.

Eric Johnson brought his guitar and love of jazz back to Pittsburgh in 1996.  He stayed busy working with local legends Walt Harper and Harold Betters. Also Eric's second CD "Makin' Whoopie" was released.  Eric then reformed his favorite group "The Fabalous A-Team."

The turn of the century marked a new chapter in Eric's life, and a return to the New York area. Since 2000, he has been performing with old friends Dr.Lonnie Smith and Lou Donaldson on occasion.  Most recently Eric has been recording and touring Japan with organist Akiko Tsuruga. Last year, while in Japan, Mr Shiino of  Vestax - D'Angelico guitars awarded Eric Johnson a beautiful guitar and endorsement.

Eric's new CD "Supahighway" is a labor of love, a beautiful work of art by a group of long time friends.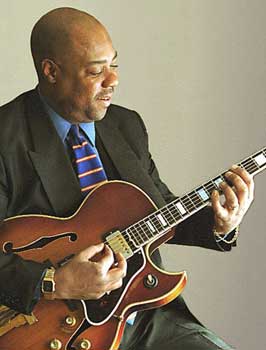 Copyright 2009 Supahighway Productions: Eric Johnson, guitar artist.  All rights reserved.

Eric Johnson: Guitar Playing with Old and New Friends Alike